-----for the english version please scroll down-----
DarkScene: Hi Maria – Wie geht's? Erzähl uns die Entstehungsgeschichte von
Red Eye Temple
vom Anfang bis in die Gegenwart. Was war der Grund, von Sibirien nach Wien zu siedeln für Dich und Deine beiden Brüder?
Maria Nesh: Hi Werner, als erstes vielen Dank dafür, dass Du dir die Mühe gemacht hast, so viele coole Fragen auszuarbeiten. Also, die Geschichte ist nicht so aufregend, haha. Unsere Eltern entschieden sich nach Europa zu ziehen während den harten Zeiten in den Neunzigern (nach der Aufsplittung der UdSSR und der Machtverschiebung nach der Gorbatschow Ära – Anmerkung des Verfassers), was Dir bewusst sein dürfte. Um uns zu schützen, entschieden sie sich, alles hinter sich zu lassen, um hier ein neues Leben zu beginnen.

Als Band, seit 2015 sind wir daneben in mehreren Projekten involviert, versuchen wir mehr und mehr einen eigenen Stil und Inhalt zu kreieren. Na gut, nach einigen Fehlern zu Beginn haben wir uns entschieden, gemeinsam als enge Band zusammen zu bleiben, was ´wohl die einfachste und Beste Lösung war.


DarkScene: Ihr erhieltet viele herausragende Kritiken für euer Debütalbum
"Vortex"
und die Band im Allgemeinen. Hattet ihr dies so erwartet?
Maria Nesh: Um ehrlich zu sein, wir hatten solch gute Reaktionen nicht erwartet. Als eine Band, die erst den Start hinter sich brachte, waren wir ziemlich überrascht, speziell über den Fakt, dass so viele Leute bereit sind, Musik zu hören, die nicht wirklich als Mainstream gilt.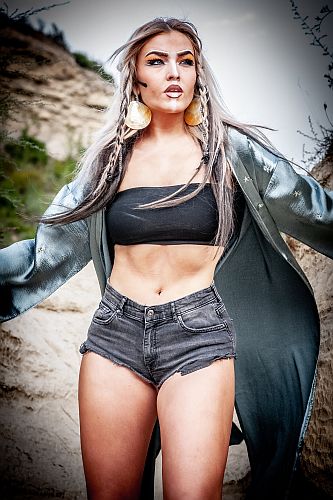 DarkScene: Euer großartiges Songwriting überzeugt mit vielen Facetten und Ideen, gleichzeitig vernimmt man eine sichere Ohrwurmqualität. War das genau der Plan?


Maria Nesh: Wir hatten nie irgendwelche besonderen Pläne für die Kompositionen. Wir kreierten Musik von unserem Herzen und unserer Seele, darüber hinaus alles mit steter Leidenschaft, das war's!


DarkScene: Dein Bruder Mat scheint ein großer
Dream Theater
Fan zu sein, oder?
Maria Nesh
: Oh ja! Er ist ein großer
Petrucci
Fan, aber eigentlich ist sein größter Einfluss
Eddie van Halen
!
DarkScene: Wie lange existieren die Songs auf
"Vortex"
schon? Denn sie klingen alle derart frisch! Welcher Track ist dein Favorit und weshalb?
Maria Nesh: Die Tracks sind allesamt sehr frisch. Wir beendeten das Songwriting 2019 und starteten gleich anschließend die Aufnahmen. Unglücklicherweise hatten wir wegen der Corona Pandemie wenige Verzögerungen, weshalb wir erst 2021 das Album veröffentlichen konnten.


DarkScene: Deine Stimme klingt sehr kraftvoll und hat genauso viel Melodie. Ein Segen in Anbetracht der letzten zwanzig Jahre, wo wir laufend mit Opern-Heulsusen gequält wurden. Du durftest eine professionelle Ausbildung genießen, oder?


Maria Nesh: Ja, ich entstamme der Jazz-Ecke und arbeite seit ca. zehn Jahre als Gesangslehrerin. Operngesang ist nicht wirklich mein Ding, aber ich respektiere jene Sängerinnen, die diese Technik richtig beherrschen.


DarkScene: Wer ist dein größter Inspirator? Wer dein Favorit als Komponist und welche Bands wichtig für Deine Karriere?


Maria Nesh
: Ich würde sagen
David Coverdale
war für viele Jahre meine große Liebe, haha. Meine Hauptinspiration in weiblicher Hinsicht ist
Tina Turner
. Ich erinnere mich gut daran, als zehnjährige mich selbst auf einen Kassettenrecorder aufgenommen zu haben, um zu hören, dass ich möglichst nach ihr klinge, haha.
Bands, die ich als ewige Highlights zähle:
Van Halen
,
Whitesnake
,
Deep Purple
,
Pantera
,
Asia
,
Kansas
,
Triumph
,
Rush
,
Iron Maiden
etc. Die Liste ließe sich endlos fortsetzen …
DarkScene: Vielleicht weißt Du: viele Metal Fans bevorzugen physische Tonträger wie CDs und Vinyl. Wird es was in absehbarer Zeit geben in der Sparte?


Maria Nesh: Oh ja, definitiv denken wir darüber nach, CDs zu veröffentlichen; wir werden demnächst unser Merchandise zum Verkauf stellen. Das wird schneller passieren, als Du denkst, aber im Moment arbeiten wir an etwas anderem, etwas, was ich noch nicht verraten darf zum jetzigen Zeitpunkt. Doch ist es nie verkehrt, ein bisschen zu necken.


DarkScene: Ebenso das Artwork von
"Vortex"
ist grandios. Wer steckt dahinter?
Maria Nesh: Es entstammt von einem sehr talentierten Russischen Künstler, von Mayhem Design.


DarkScene: Auf eurer Facebook Site kann man sich einige tolle Coverversionen von Rock und Metal Songs anhören. Hast Du eigens eine Coverband hierfür, gab es Gigs dafür bzw. wird es welche in Zukunft geben?


Maria Nesh: Manchmal treffen wir uns mit österreichischen Musikern, um ein "80er" Event auf die Beine zu stellen, wo wir uns dann im gepflegten Glam-Style einkleiden und einige Coverversionen herunterzocken. Es ist nur als Spaß gedacht!


DarkScene: Sigi Samer von
Dragony
ist ein Freund von euch (singt beim Song
"Patterns"
mit). Wie habt ihr euch kennen gelernt?
Maria Nesh
: Wir kennen Sigi aus der Zeit unserer Vorgängerband
Warptime
. Wir haben mit
Dragony
beim Dragons Cry Festival in Wien 2017 zusammen gespielt, seither pflegen wir eine Freundschaft mit der ganzen Band.
DarkScene: Was sind die Pläne für die nächsten Monate und Jahre? Bleibt ihr in Österreich länger?


Maria Nesh: Kürzlich haben wir unser eigenes Musikstudio "RET" Records in Wien erschlossen. So gesehen haben wir geplant, für längere Zeit hier zu bleiben. Die Pläne sehen weiters vor, geschäftlich und als Band zu wachsen, hoffentlich geht es auf! Wir mögen Österreich wahrhaft!


DarkScene: Wenn wir alle wieder ein "normales" Leben führen können, werdet ihr dann nach Innsbruck kommen? Das wäre großartig!


Maria Nesh: Wir waren niemals in Innsbruck, aber wir werden im Falle die Gelegenheit nutzen, dort live zu spielen – es ist sicher ein schöne Stadt!


DarkScene: Da gibt es ein paar heiße Bilder (also knapp gekleidet) deiner Person auf eurer facebook Seite. Einige Leute werden sagen, dass dies eher ablenkt, weil ja die Musik im Vordergrund stehen sollte. Wie gehst Du damit um?


Maria Nesh: Tja, wir haben niemals "hot pictures" meinerseits auf unserer professionellen Homepage gepostet, das mache ich manchmal auf meiner privaten FB Seite, doch sehe ich darin aber nichts falsches, jeder kann sich so ausdrücken, wie er will, ohne gleich dafür verurteilt werden zu müssen.


DarkScene: Welche fünf Alben würdest Du auf die einsame Insel mitnehmen?


Maria Nesh
: Gute Frage ….
Rush
-
"Power Windows"
Van Halen
-
"5150"
Asia
-
"Aqua"
Tool
-
"Lateralus"
Dream Theater
-
"Images And Words"
DarkScene: Danke für Deine Zeit, hast Du noch abschließende Worte für unsere Leser?

Maria Nesh
: Bleibt euch treu, gebt niemals eure Träume auf und wagt stets Schritte aus der Komfortzone raus. Nachdem wir harte Zeiten durchmachen mussten, die uns alle betrafen, realisieren wir einmal mehr, dass es unmöglich ist, Rock und Heavy Metal zu töten – so long live Rock n' Roll!
Hier findet ihr

Red Eye Temple

auf Facebook.
-----english version----
DarkScene: Hi Maria – how are you? Please tell us about the story behind
Red Eye Temple
from the beginning until now. What was the cause to immigrate from Sibiria to Vienna for you and your both brothers?
Maria Nesh: Hi Werner, first of all thank you very much for taking so much effort in coming up with so many cool questions. Well, the story is not that exciting, haha. Our parents decided to move to Europe during very hard times in the 90s, of which you are probably aware. To keep us safe they came up with a decision to leave everything behind and start a new life in Europe.

As a band, since 2015 we've been working on several local projects, trying to create our own style and content. Well after a few failures we made a decision to stick together as a band, which was the best and most simple choice.


DarkScene: You got only amazing reviews for your debut
"Vortex"
and the band also got good feedback in general. Did you expect this?
Maria Nesh: To be honest, we didn't expect such a good reception. As a band that started from scratch, we were positively surprised, especially about the fact that so many people are still up for listening to music that is not really mainstream.


DarkScene: Your great songwriting is convincing with many facets and ideas, but you also hear a certain catchiness. Was that exactly your plan?


Maria Nesh: We never had any particular plans for songwriting. We were creating music from our hearts and souls and we were passionate about it, that's it.


DarkScene: Your brother Mat seems to be a big
Dream Theater
, isn't he?
Maria Nesh: Oh yeah! He is a very big Petrucci fan, but his main influence is actually coming from Eddie Van Halen.


DarkScene: How long do the songs on
"Vortex"
exist? Because they sound so fresh! Which one is your personal favorite and tell us why?
Maria Nesh: The songs from the album are very fresh. We finished the songwriting in 2019 and started with the recordings immediately. Unfortunately the production was a bit delayed due to COVID situation, that's why we could release it only in the beginning of 2021.


DarkScene: Your voice is very powerful but has just as much melody. That's a boon because for the last 20 years we've only had more opera voices. I think you got a professional education, or?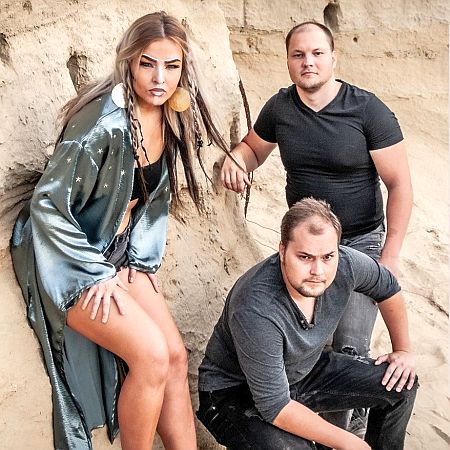 Maria Nesh: Yes, I am a professional trained jazz singer and have been working as a vocal coach for about 10 years now. Opera singing is not really my thing, but I really respect those singers that can use this technique properly.


DarkScene: Who is your greatest inspirer? Who your favorit composer and which bands were important for your career?


Maria Nesh
: I would say that David Coverdale has been my true love for many years, haha. My main female inspirer is Tina Turner, I remember myself when I was 10 and I used to record myself on a cassette recorder just to hear if I sound at least a bit like Tina, haha!
Bands that I would like to highlight are:
Van Halen
,
Whitesnake
,
Deep Purple
,
Pantera
,
Asia
,
Kansas
,
Triumph
,
Rush
,
Iron Maiden
etc. I can go on with this list forever!
DarkScene: Maybe you know: many metal-fans prefer physical music like CDs and vinyl. Will we get any stuff ike that in next time?


Maria Nesh: Oh yeah, we definitely will think about releasing CDs and start selling merch. It will happen sooner than you think, but now we are working on something else, which I'm not allowed to talk about right now. But its always good to tease a bit.


DarkScene: Also the artwork of
"Vortex"
is great thing! Who created it?
Maria Nesh: The cover artwork was created by a very talented russian artist Mayhem Design.


DarkScene: On your facebook-site are some interesting coverversions of famous rock and metal songs. Do you or will you perform these tracks with a coverband live on stage?


Maria Nesh: Sometimes some austrian metal musicians and us are making the 80s events, where we dress up like a glam metal band and play some covers. Its always fun!


DarkScene: Sigi Samer of
Dragony
is a friend of your band (he co-designed the song
"patterns"
). How did you meet him?
Maria Nesh
: We have known Sigi since our previous band
Warptime
. We've been playing together with
Dragony
at the Dragons Cry Festival in Vienna in 2017, and since then we are in good relationship with the whole band.
DarkScene: What's the plan for the next month and years? Do you want to stay for a longer time in Austria?


Maria Nesh: Recently we opened our music studio RET Records in Vienna. So we are surely planning to stay in Austria for longer. The plans are to grow our business and band, hopefully it will work out! We really like Austria!


DarkScene: If there is normality back in our life (because the corona pandemia), would you come to Innsbruck? That would be a really great thing!


Maria Nesh: Absolutely! We've never been to Innsbruck and playing there would be a good opportunity to visit this beautiful city!


DarkScene: There are some "hot pictures" of your person on the band's fb site. Some people will say, it doesn't have to be, because the music has priority. How do you deal with such remarks?


Maria Nesh: Well, we never posted any "hot pics" of mine on our professional social media pages. I sometimes do it on my private account and see nothing wrong about it, everyone can express themselves in the way they like, without being judged.


DarkScene: Which five albums would you take with with for the lonesome isle?


Maria Nesh
: Wow, that a good one ...
Rush
-
"Power Windows"
Van Halen
"5150"
Asia
"Aqua"
Tool
"Lateralus"
Dream Theater
"Images and words"
DarkScene: Thanks for your time, possibly you have any words for our readers?


Maria Nesh: Stay true to yourself, never give up on your dreams and always step out of your comfort zone. After living through very hard times that we all have right now, we realized once more, that It is not possible to kill metal and rock music, so long live rock n roll!